ComputerXplorers offers exciting & innovative technology-based activities suited to holiday programmes and we've now gone online!
Not every child wants to play sport all holiday - ComputerXplorers holiday computing camps are the perfect solution to those looking for lots of fun in a sociable setting while stretching their creativity, their brain cells and learning a few new skills along the way.
Programme an app for a smart phone or be a TV producer for the day - fun technology and computing activities for children and teens
We offer loads of variety for children and teenagers from programming an app for a smart phone to building a website or producing your own TV show - lots more on offer too!
Sessions can be adapted to suit varying timeframes and locations making them a stimulating addition to a holiday camp's activity schedule.
We provide trained instructors, lesson plans, the software and extraordinary technology peripherals. We operate across all parts of Edinburgh, East Lothian, West Lothian, Midlothian, Falkirk and the Borders and are now offering Online Holiday Camps
Online Summer Holiday Technology Camps 2020
Summer Holiday - 6th - 24th of July
For the attention of parents everywhere!
Are you struggling to keep your kids entertained? Want to learn the latest technology? Are your kids looking to learn a new skill?
As parents ourselves we understand the pressures on parents to keep your children entertained and educated over the Summer holidays. This is why we have launched our ONLINE Summer Camps starting Monday the 6th of July
Do you think you know everything there is to know about Minecraft?
Join us this week for all things Minecraft to find out
From coding builds that make creating a pyramid, or a House or Roller Coaster easy to Minecraft building challenges, quizzes and quests we have it covered for a fun-filled week of all things Minecraft!
Ever dreamt about creating your own video game?
Well now you can with ComputerXplorers! Aimed at complete beginners or those with only a little experience this week is all about giving you a head start in the world of coding and game design!
At the beginning of the week we will head back to the 80s to the time of spaceship shooters and arcade games. We will then take a look at block programming as we explore other easily available software to create our very own games and animations, finishing the week with our very own game development contest!
Already have some coding and game design experience?
Want to expand your knowledge? This is the one for you!
Over the course of the week we will build and develop your programming skills and show you how your interest can turn into a career.
We will start with some block programming then step it up a gear as we have some fun with "real life" programming languages such as Python. We will then finish the week with a game development contest.
Enter the world of Stop Motion Animation!
Join us for a week of fun packed sessions where you will learn everything you need to know about Stop Motion Animation.
From designing your very own clay characters and backgrounds and creating your script to using more complex software and the latest techniques.
Watch out Wallace and Gromit here comes ComputerXplorers!
Enter the world of 3D design and drawing
Learn how to use the latest computer aided design (CAD) to build amazing 3D models from mansions and castles to skate parks and world landmarks as we take you from 3D shapes to more sophisticated techniques.
We will also be using Minecraft to discover unique construction and architecture that can be found around the world and challenging you to build one in your own Minecraft world
Essential Information
Students willl need a computer or laptop with a good internet connection. A mouse will rollerball also recommended
Week long classes include a break in between.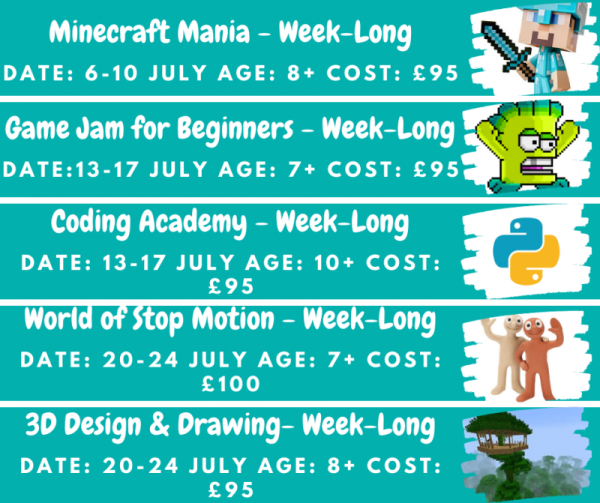 ---
What else we do...